TICKET
DAILY THOMPSON
God Of Spinoza Tour!
Einflüsse aus Grunge, Garage und Indierock fließen zu einem völlig übersteuerten, extrem fudgigen Superfuzz-Bigmuff zusammen. Der Sound ist ein Feuerwerk aus Noise, Indie-Blues bis hin zu Stoner-Rock, immer mit für den Daily Thompson üblichen Fuzz-, WahWah- und Distortion-Attacken kreieren sie ihren 90ies Fuzz-Desert-Rock. Besonders die zwei Leadvocals sind nicht oft in dem Genre zu finden.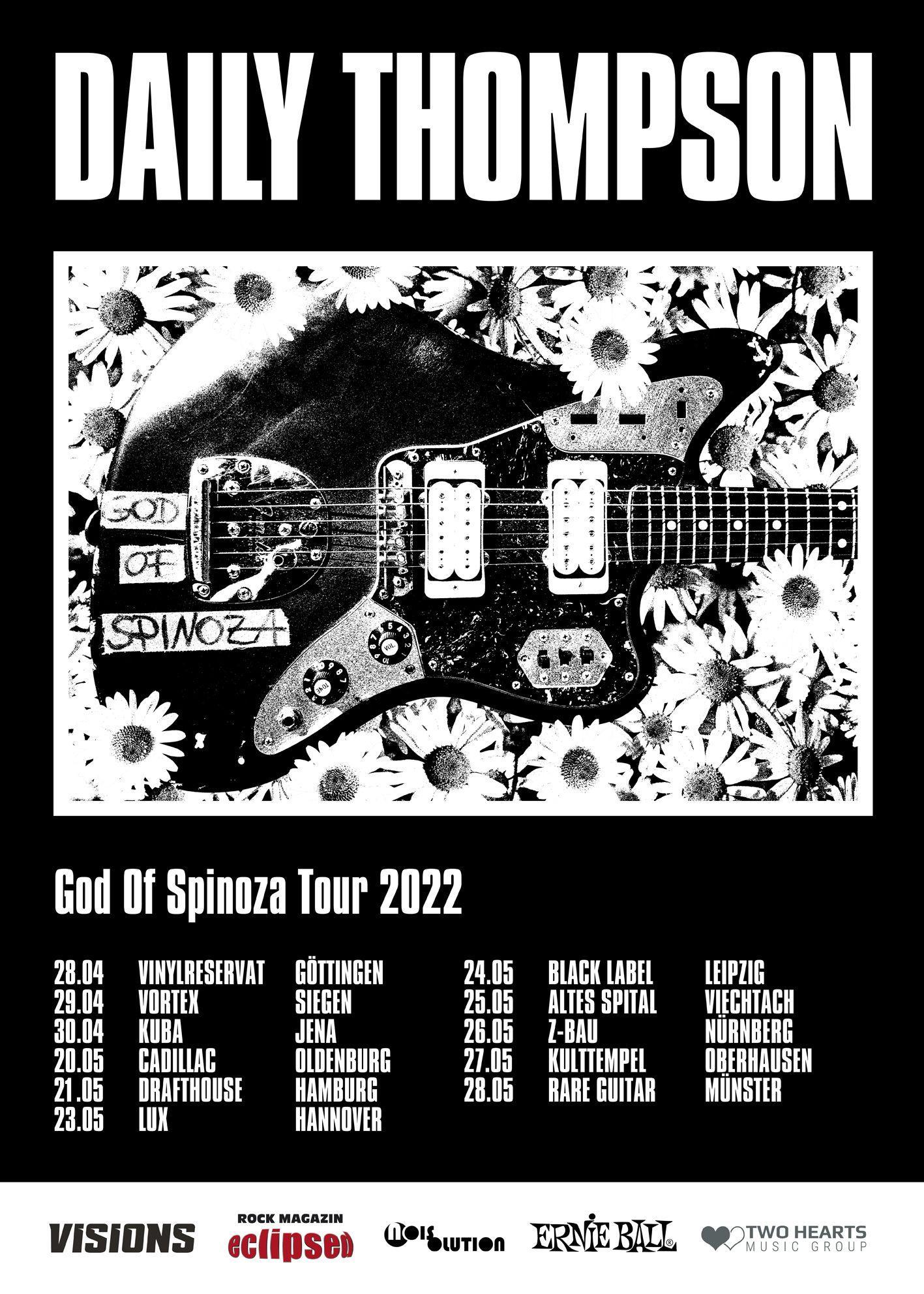 Die letzten Jahre hat das Trio sozusagen auf der Straße verbracht. Daily Thompson haben sich schon auf unzähligen Shows bewiesen, darunter auch Festivals wie z.B. das WDR Rockpalast Crossroads Festival, Reeperbahn Festival, Orange Blossom Special Festival oder Krach Am Bach! Bühnen wurden mit Bands wie Liam Gallagher, Portugal The Man, Maximo Park, Earthless, Mustasch, Nebula, Truckfighters und vielen mehr geteilt. Für 2021/22 sind Festivals wie das Freak Valley, Stoned From The Underground und Rock Im Wald bestätigt.
Obwohl die Band durchgängig auf Tour ist, veröffentlichen sie Singles und Alben am laufenden Band. 2014 wurde das selbstbetitelte Debüt Album veröffentlicht, 2015 wurde die Split 7" "Spit Out The Crap" mit der US Band Mos Generator released und 2016 veröffentlichte die Band ihr zweites Album "Boring Nation". Den Release der Split 7" "River Haze" feierten sie 2017 auf dem Reeperbahnfestival. 2018 wurde das Album "Thirsty" veröffentlicht. Im Januar wurde außerdem die Split Ep mit der Künstlerin Elli De Mon released, die italienische Antwort auf Seasick Steve. 2020 unterschrieb die Band bei dem Berliner Label Noisolution und veröffentlichte ihr viertes Album "Oumumua" am 21. August 2020. Im Dezember 2021 wird die Band ihr neues Studio Album "God Of Spinoza" veröffentlichen!
INSTAGRAM | DAILY THOMPSON
BEGINN: 20:00 Uhr
ENLASS: ca. 19 Uhr